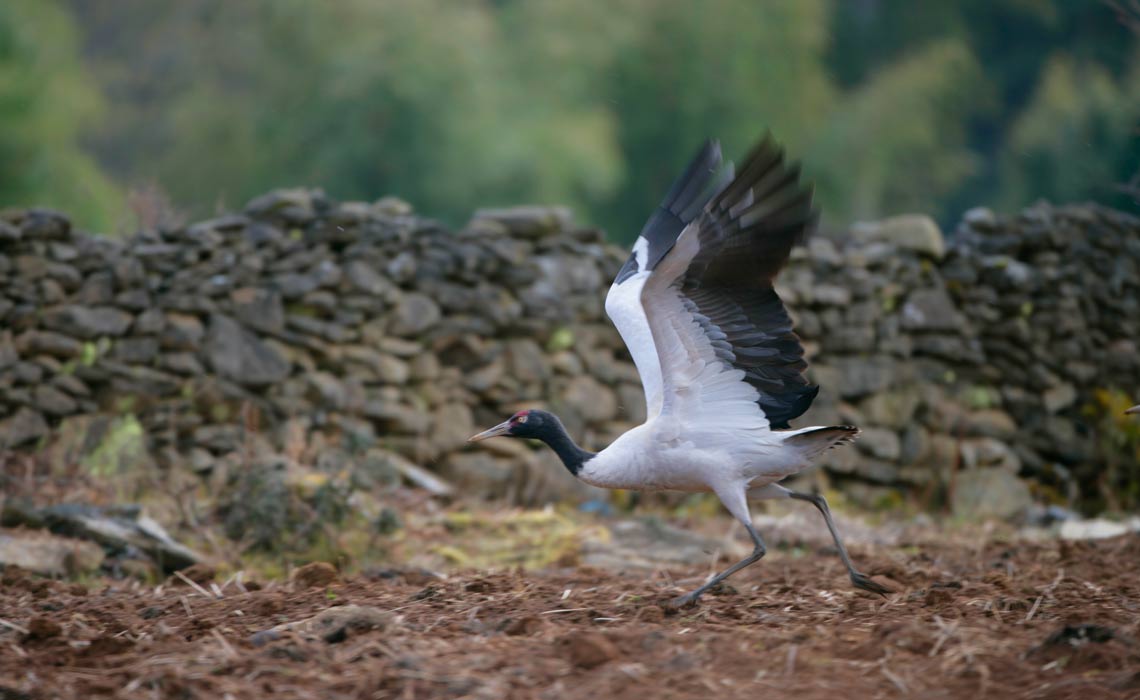 Bhutan Bird Watching Tour is an adventurous journey filled with excitement, fun, thrill and satisfaction. Bhutan is a home to many species that are seen lively in perfect harmony with its rich nature. There are nature conservation such as Natural Parks, Nature reserve and Wildlife sanctuaries that provide habits to different species of mammals, plants and birds and certain laws against harming those species. Over 770 species of birds are recorded till date and more are yet to be discovered. Due to developmental activities and blooming industries like Hydro power projects, habitats of birds are often disturbed but you will never fail to see birds during different season in forest, scrub, wetlands, alpine, agricultural land and land around human habitation. Majority of birds are residential and some are migrants. This common birds are the parts of ecosystem.
Birding Across Bhutan Itinerary ( 15 Nights | 16 Days )
On this tour we're sure to see birds in abundance, plus breath-taking scenery as we travel across almost the entire country. Over 70 percent of the land surface is forested, and over 600 species have so far been recorded in Bhutan. A significant number of species, including Satyr Tragopan, Blood Pheasant, Himalayan Monal, Yellow-throated Fulvetta, Fire-tailed Myzornis, and Wedge-billed, Long-billed, and Bar-winged Wren-Babblers, are easier to see here than anywhere else on earth. And Bhutan is one of very few accessible places to see several others, such as Ward's Trogon, Yellow-vented Warbler, Blue-fronted Robin, and White-naped Yuhina.
Even more, perhaps, than other countires, fabulous Bhutan fires the enthusiasm of all who have visited it, leaving them with a sense of privilege and a longing to return.
This bird watching tour to Bhutan is purely a suggested itinerary. It can be booked as it is or alternatively used as a starting point for creating your own ideal tailor made trip to Bhutan.
Day 01: Arrival at Paro
Catch an early morning flight to Paro, Bhutan's only airport. your route parallels the mighty Himalayan mountain chain and if the weather is good we should see Mount Everest. After clearing immigration we'll drive east through an enchanting valley with its gaily-decorated shingle-roofed houses and willow-fringed river. Red-billed Choughs are quite common in this valley and as we head east we'll stop to search for Ibisbill and Brown Dipper. With luck we might encounter a regional speciality such as Rufous-fronted Tit. We'll spend the night in Thimphu, Bhutan's delightful capital.
Overnight: Hotel in Thimphu
Day 02: Thimphu/ Punakha
We'll head east out of Thimphu, up onto the western slopes of the Dochu La, the first of a series of high altitude road passes that we'll explore. Entering the pristine mixed forests of hemlock, fir, oak, blossoming magnolias, and rhododendrons we should see a wealth of birds including some species-rich feeding flocks. Quarrelsome Nutcrackers are common and past highlights have included a skulking Hill Partridge, a Satyr Tragopan, a Golden Bush Robin, an immaculate Cutia, a Brown Parrotbill and even the gorgeous Fire-tailed Myzornis. Most of our birding on this tour will be from the roads, which are well paved and almost lacking in traffic. Today however, we'll venture off road on to a trail that enables us to explore the forest more thoroughly. On several recent tours we've even managed to have excellent views of Ward's Trogon, one of Bhutan's premier avian prizes.
Overnight: Camp in Punakha
Day 03: Punakha
Today, we'll explore the braided channels of the Mo Chhu river and the bird-rich sub-tropical forests it contains. Our route will take us past the spectacular Punakha Dzong (a fortress and monastery combined). We should see an impressive array of species here, and sometimes we see a White-bellied Heron, one of Bhutan's rarest birds. We're sure to encounter several parties of brightly coloured minivets, noisy Striated Laughingthrushes and may also see more Ibisbills. A whole host of forest species such as Bay Woodpecker, Red-headed Trogon, and Wedge-tailed Pigeon, wait to be discovered. Fire-capped Tit breeds here, as does White-gorgeted Flycatcher and the rare Yellow-vented Warbler. We'll also search for a variety of skulkers including Lesser Shortwing, Spotted and Pygmy Wren-Babblers and two of the three species of tesia.
Overnight: Camp in Punakha
Day 04: Punakha/Gangtey
Continuing east, past Wangdi Dzong (another monastery and fortress combined), we'll make a series of brief stops to scan the braided river channel.We'll also check forest edges and explore some of the small patches of cultivation. We'll enter productive forest near the end of our journey and will stop here to look for species such as Blood Pheasant, Satyr Tragopan and the majestic Himalayan Monal. Spotted Laughingthrush, Yellowish-bellied Bush-Warbler, Rusty-flanked Treecreeper, White-browed Bush Robin and White-winged Grosbeak also occur here.
Overnight: Hotel in Gangtey
Day 05: Gangtey/Trongsa
Leaving Gangtey we'll follow the twisting road up over the Pele La pass and into 'Central Bhutan'. A stand of ringal bamboo extends for about three miles below the pass and we'll search here for specialities such as Great and Brown Parrotbills, and Golden-breasted Fulvetta, surely one of the world's most attractive passerines.
Overnight: Hotel in Trongsa.
Day 06-07:Trongsa/Zhemgang
From Trongsa we'll head south to our first camp site near Zhemgang. Our main target at the start of our journey is the rare and little-known Yellow-rumped Honeyguide, but we should also see a number of other species, perhaps including Fire-capped Tit, Large Niltava, and Russet Bush Warbler. The entire length of this spectacularly forested valley is also a good area for the endangered Golden Langur monkey. We've seen Beautiful Nuthatch at a couple of sites on this road and will spend time searching for this magnificent bird. Our camp site, right in the heart of some superb forest, is at one of the lowest altitudes that we will visit in Bhutan and species seen here on recent tours include Chestnut-breasted Partridge, Violet Cuckoo, Pin-tailed Green Pigeon, Rufous-necked Hornbill and Cutia. Rufous-faced Warbler is also quite common here. We also stand a further chance of encountering the rare White-bellied Heron. We'll spend two nights here camping in modern, walk-in, spacious tents and sleeping on comfortable camp beds all erected for us by our Bhutanese crew.
Day 08: Zhemgang/ Bumthang
Retracing our route we'll head back north through Trongsa before climbing over a bamboo-thronged pass into the first of the four Bumthang Valleys. The scenery suddenly changes to broad grassy valleys and rolling hillsides covered in spruce and fir and the avifauna changes equally abruptly. Nutcrackers can be common, though we'll have to spend a little more time searching for the region's real specialities – Slender-billed Scimitar Babbler, Fulvous, Brown and Great Parrotbills, White-browed and Rufous-breasted Bush Robins and Dark-rumped Rosefinch.
Overnight: Hotel in Bumthang.
Day 09: Bumthang/Sengor
We'll start early today, continuing our circuit east and searching for pheasants which could include Monal, Satyr Tragopan and Blood Pheasant. We will climb, and eventually cross, the Thrumsing La, which at 12,465ft is Bhutan's highest road pass. The road then plunges dramatically down into rich semi-tropical rainforest and we find ourselves on the Lingmethang road, perhaps Asia's premier birding road. Many of Bhutan's most sought-after birds can be found here including Chestnut-breasted Partridge, Ward's Trogon, the majestic Rufous-necked Hornbill, Blue-naped Pitta, Blue-fronted Robin, and Sikkim Wedge-billed, Long-billed and Bar-winged Wren-Babblers. Accommodation nearby is spartan, so we've opted to camp again, spending four more night under canvas.
Overnight: Camp at Sengor
Days 10-11: Sengor/Lingimithang
We'll spend these days exploring the fabulous, lush primary forests near Linmethang in search of the area's specialities. We're sure to see many new birds, and while not all of these are rare, many of them, such as Slender-billed and Coral-billed Scimitar-Babblers, Scaly and Blue-winged Laughingthrushes, Greater Rufous-headed Parrotbill, Broad-billed Warbler, White-naped Yuhina, and Rufous-throated Wren-Babbler are poorly known and unfamiliar to most birders.
Overnight: Camp at Lingmithang
Day 12: Lingmithang/Tashigang
Leaving our campsite we'll continue our journey east to near Trashigang, a small town in northeastern Bhutan. We'll spend the night camping at a site where we've regularly seen Black-tailed Crake.
Overnight: Camp in Tashigang
Day 13: Tashigang/Narphung
We'll wind our way south en route to our next base in southeastern Bhutan. Our journey takes us through a series of villages and we'll stop to view an ornate Buddhist temple, before continuing over several forest-covered passes and down equally spectacular river valleys. Easternmost Bhutan is poorly known ornithologically and we'll make several exploratory birding stops amid superb forests near Narphung before we reach our camp. In the past we've seen rarities such Grey-sided Laughingthrush and Ward's Trogon on this journey.
Overnight: Camp at Narphung
Day 14: Narphung/Deothang
Our campsite near Narphung is in the heart of prime mid-altitude forest and provides us with opportunities to study the birds of this rich biotope. We'll spend the entire day birding in the forests between Worong and Dewothang, having breakfast and lunch in the field. We expect to arrive at Samdrup Jongkhar, our base for the following two nights, in the early evening. Today's target species will include Mountain Imperial Pigeons, Dark-rumped Swift, Long-tailed Broadbill, Rufous-necked Laughingthrush and we stand another chance of encountering the enigmatic Beautiful Nuthatch.
Overnight: Camp at Deothang
Day 15: Deothang/Samdrup Jongkhar
We'll explore the forested hill slopes around Samdrup Jongkhar, a bustling border town lying at the junction of the Himalayas and the Brahmaputra flood plain. Here we may find species such as Grey Peacock Pheasant, Jerdon's Baza, Pied Falconet, Dark-rumped Swift, Wreathed Hornbill, Whistling Hawk-Cuckoo, Pin-tailed Green-Pigeon, Violet Cuckoo, and Sultan Tit.
Overnight: Hotel in Samdrup Jongkhar.
Day 16: Departure
This morning, we drive for two hours to Guwahati, the capital of Assam, where we go straight to the airport to check in for the flight to Dehli or Bangkok.