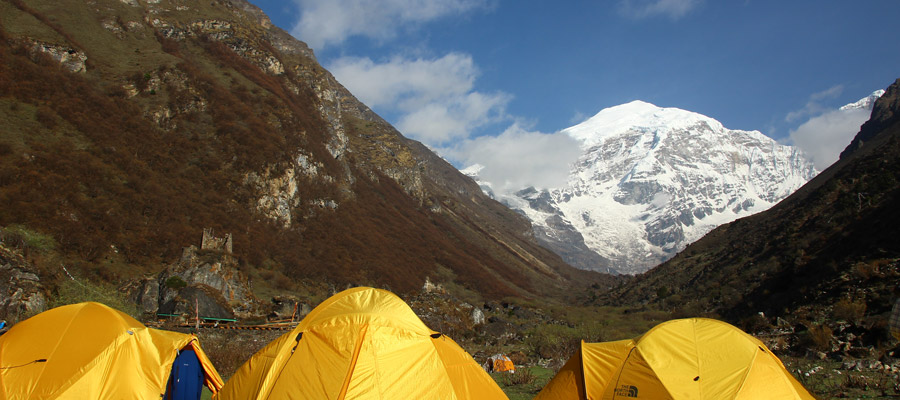 Trip Highlights
Duration 7 Nights | 8 Days
Best Season March – June & September – November
Difficulty Level Moderate - Hard
Highest Altitude 4930m
Avg Walking Distance 16 km
Avg Walking Time 6 hrs
Trek Overview
Jumolhari trek in Bhutan is the most enchanting adventure trek in the Himalaya. After an acclimatization hike to Tiger's Nest Monastery, you will start the trek from historic Drugyal Dzong ruins. The first three days of this trek follow the Pachhu or Paro river valley to Jangothang base camp from where you will have a stunning view of 7315m Mount Jumolhari, the second highest unclimbed peak in the world. The trail goes through high pasturelands where yak herders graze their animals and Lingzhi, the highest settlement in the north with a unique mountain culture. En route you will have startling views of of Mount Jichu Drake (6989m) and Tshrim Khang (6789m). The next high pass after Lingzhi is the Yele la pass at 4930m. (Dummy text) En route you will have startling views of of Mount Jichu Drake (6989m) and Tshrim Khang (6789m). The next high pass after Lingzhi is the Yele la pass at 4930m.
Itinerary
Day 1: Paro to Sharna Zampa
17KM | 5-6 HOURS | 230M ASCENT | DESCENT 60M | CAMP ALT 2870M

You will drive 12km north of Paro valley from your hotel to the historic Drugyal Dzong ruins at 2,580m, from were your trek starts. Your trekking crew will be waiting here for you. After a brief meeting, you will walk downhill on a wide trail following the Pachhu (river), which then climbs gently traversing through well-maintained rice terraces and fields of millet. Soon the valley widens and the route enters an area of apple orchards, traditional farmhouses and the tiny settlements of Mitshi Zampa and Sangatan. You reach the army post of Gunitsawa at 2,810 after walking for a while through blue pine forest. Here your trekking permit will be checked and stamped. This is the last stop before Tibet and border close to it. You will then cross Pachu River on a wooden bridge and then climb to Sharna Zampa at 2,870m. Just beyond Shana Zampa, there are several meadows surrounded by trees where you will camp for tonight.
Day 2: Sharna Zampa to Soi Thangkha
22KM | 8-9 HOURS | 690M ASCENT | CAMP ALT 3750M

The trail again follows Pachhu (Paro river), ascending and descending through pine, oak and spruce forests. After 2 hours of continuous hiking and crossing several streams, you will reach at Shingkharap, a stone house at 3110m. A hot lunch will be served after crossing the bridge towards the left side of the river. Little ahead is the trail junction – left an old trade route and invasion from Tibet and right leading to the wooden bridge (we follow the right). After climbing up through rhododendron forests and finally crossing the bridge again, we reach our camp at 3750m, which is amidst beautiful meadows.
Day 3: Soi Thangkha to Jangothang Base Camp
19KM | 5-6 HOURS | 290M ASCENT | CAMP ALT 4040M

Although today's is not a long trekking day, a significant height gain will take place as your trail goes above tree line. From the camp, your path ascends for a while till you reach the army camp. Then follow the river above the tree line enjoying the stunning view of surrounding peaks. We walk through a very muddy section of trail, pass a mani wall and enter yak country. Hot lunch will be served inside a yak herder's camp. After lunch, we walk past yak herder settlements of Soe and Takethang. Common crops that people grow here are barley, potatoes and turnips. We walk our final approach across a plateau and up a stream bed and Dangochang village to the awesome campsite of Jangothang at an altitude of 4,040m. From here, the views of Mount Jumolhari and Jichu Drake are superb.
Day 4: Jangothang acclimatization and exploration
Today, you will spend a day by doing four-hour acclimatization hike to the north of your camp. There is practically no trail but you will climb on a open and endless slope till you see the view of Mt Jichu Drakye (6989m). You can scramble further up till 4895m (higher than Mount Blanc) to see amazing view of Mount Jumolhari. You are likely to spot rare blue sheep, Himalayan rhubarb, griffon vultures, golden eagles and the remarkable blue poppy. Jangothang base is a flat grassy land with an old ruined fortress on a hillock in the foreground, beneath the colossal Mount Jumolhari and its neighbour Jitchu Drake. Most people show signs of mountain sickness at this altitude and it is recommended that all trekkers halt here. If you do not wish to hike but simply wish to just relax in camp, whichever option you choose, its certainly going to be a memorable day.
Day 5: Jangothang to Lingshi
18KM | 6-7 HOURS | 660M ASCENT | 660M DESCENT | CAMP ALT 4010M

The trail follows the stream for half an hour and crosses the bridge to the right side. Start the climb up to the first ridge with a breathtaking view of Jumolhari (7314m), Jichu Drake (6989m) and Tshering Gang (6789m). Then walk towards the valley, almost flat for a while, until you climb to the Ngye La pass at an altitude of 4,700m. After the pass, it is a gradual descent to the camp, enjoying the panoramic view of the surrounding peaks and Lingshi Dzong. If time permits, you can have a detour to this tiny fortress, which is sitting on a hilltop overlooking Lingzhi village below. For centuries, Lingzhi Dzong was a way station for weary Buddhist pilgrims and defense fort against Tibetan and Mongol invaders. Camp at an altitude of 4010m.
Day 6: Lingshi to Shodu
22KM | 8-9 HOURS | 780M ASCENT | 720M DESCENT | CAMP ALT 4100M

The Laya-Gasa route leaves the Jumolhari trek here. The trek route climbs towards a small white Chorten on a ridge above the camp, then turns south up the deep Mo Chhu valley. The trail stays on the west side of the largely treeless valley, climbing steadily a short distance above Mo Chhu. It then crosses the river, and climbs steeply for two hours to Yeli La pass (4,820m). From the pass, on a clear day, you can see Jumolhari, Gangchen Ta, Tshering Gang and Masang Gang. Descend alongside a stream to a shelter, and then further downstream to a camp at Shodu (4,100m), a meadow with a Chorten.
Day 7: Shodu to Barshong
16KM | 5-6 HOURS | 400M DESCENT | CAMP ALT 3700M

At this place, one comes back to tree line. The path follows Thimphu River, descending through rhododendron, juniper and other alpine forests. The view of the cliff facing rocks and waterfalls is stunning. Hot lunches will be served by the riverside. After lunch the trail gradually ascends to the ruins of riversides. After lunch the trail gradually ascends to the ruins of Barshong Dzong, reaching the camp at an altitude of 3,700m.
Day 8: Barshong to Thimphu
17KM | 6-7 HOURS | 100M DESCENT | CAMP ALT 3600M

The trail descends gently through a dense forest of rhododendron, birch and conifers, and then drops steeply to meet Thimphu Chhu. It stays on river left, climbing over ridges and descending to side streams. Then traverses steep cliff to Dolam Kencho, at 3,600m. Then the trail goes in and out steeply to the river and follows it southward to the road head at Dodena, elevation 2,600m where you will be picked up by Bhutan Travelers transport to drive to Thimphu.