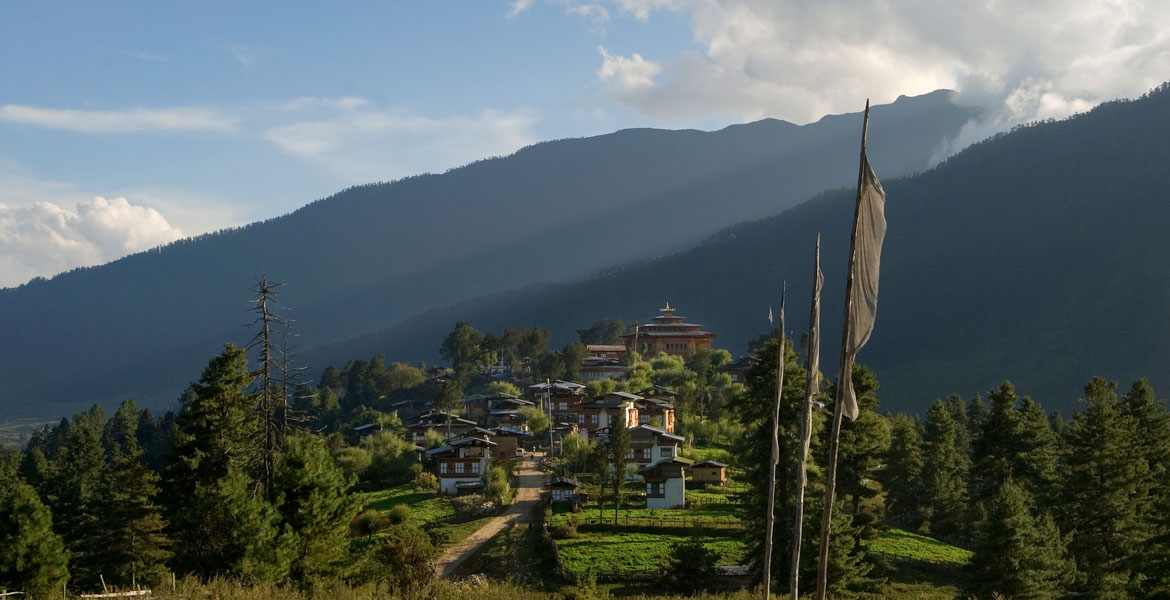 Trip Highlights
Duration 6 Nights | 7 Days
Best Season March – June & September – November
Difficulty Level Easy - Moderate
Highest Altitude 4253m
Avg Walking Distance 15km
Avg Walking Time 6hrs
Trek Overview
Merak Sakten Trek was opened only in 2012 after three decades of inception of tourism in Bhutan and so far very few trekking groups have visited this remote region in Eastern Bhutan. The trek passes through the twin village of Merak and Sakten lying above 3000m from the sea level. The trek which passes through Sakten Wildlife Sanctuary is also home to endangered snow leopard and red panda, Himalayan bear, Himalayan red fox and indeed legendary yeti. The people living in Merak Sakten area are semi-nomadic yak herders with a unique and fascinating culture in the world. They speak a different dialect, have their own deities and wear a unique style of dress. They wear headgear made of yak-hair with five tentacles designed to draw away the rain.
Itinerary
Day 1: Trashigang via Chaling to Donmang Chu
19KM | 7-8 HOURS | 2217M ASCENT | 230M DESCENT | CAMP ALT 3124M

From Trashigang, you will take scenic drive for one and half hours to Chaling passing through Rangjung town and Radhi village. Your trekking crew and pack animals will be waiting here for you. Trek starts with gradual climb towards Shaktimi meadow. You will see yaks and sheep grazing with yak herders' huts dotted on the hills side. Climb further to reach Mendula Pass at 3354m. From this pass, you will descend through rhododendron forests to Donmong Chu camp at 3124m.
Day 2: Donmang Chu to Merak
14KM | 5 HOURS | 396M ASCENT | CAMP ALT 3520M

The trail from Domong Chu to Merak mostly follows the river bends. The final stretch has gentle ascend before you reach Gangu village. After another 45 minutes walk from this village, you will arrive at Merak located at an altitude of 3520m. The campsite located before the village has spectacular views of nearby mountains and village. Visit the local village to experience the life of this people.
Day 3: Merak to Miksateng
16KM | 5 HOURS | 633M ASCENT | 1073M DESCENT | CAMP ALT 3080M

Today is the toughest journey of the trek crossing the highest Nachungla pass at 4153m. From the campsite climb gradually to the first pass at 3900m from where you can have last glimpse of Merak valley. Continue the trek along the tree line of juniper and rhododendron forests and conquer the Nachungla pass. Then you will descend to your camp Miksateng at 3080m surrounded by rhododendrons.
Day 4: Miksateng to Sakten
14KM | 5 HOURS | 81M ASCENT | 310M DESCENT | CAMP ALT 2950M

Descend to the river, crossing it and then following the river bank for few hours, you will climb gradually to a hill adorned by small Chorten (Stupa) overlooking the Sakten valley. If you are lucky, you can spot red panda among the trees. Descend down from the ridge and camp on the outskirts of the Sakten village at 2950m.
Day 5: Explore Sakten
You will visit Sakten village and explore the lifestyle and unique culture of this ethnic group.
Day 6: Sakten to Joekhar Teng
17KM | 7 HOURS | 74M ASCENT | 1291M DESCENT | CAMP ALT 1800M

Today's journey will be longer and so we will start early from the camp. Leaving Sakten, start with short climb to the small hill towards the west end of the village. Then descend down to the river and walk alongside it through the broad leaf forests. We camp in a beautiful meadow near the river by Joenkhar Teng village (1800m). Joenkhar Teng is situated on the hillside and its population comprises of Brokpa and Sharchopa with a community school and outreach clinic.
Day 7: Joekhar Teng via Phongmey to Trashigang
12KM | 5-6 HOURS | 346M ASCENT | 942M DESCENT

The last day of the trek begins with short climb through the Joenkhar Teng. Crossing the suspension bridges, you will climb shortly to Phongmay village. Meet your transport and drive to Trashigang. On the way, stop at Rangjung and visit the Rangjung Monastery, which is founded by His Eminence Garab Rinpoche.