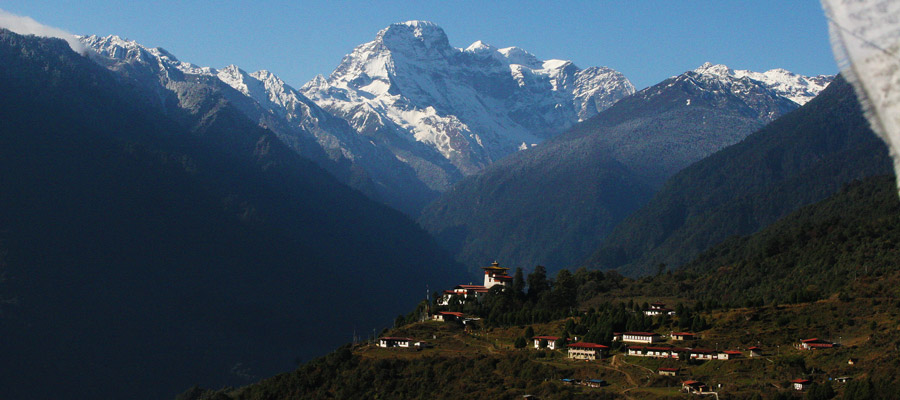 Trip Highlights
Duration 14 Nights | 15 Days
Best Season March – June & September – November
Difficulty Level Moderate - Hard
Highest Altitude 5005m
Avg Walking Distance 17 km
Avg Walking Time 6 hrs
Trek Overview
Laya Gasa Trek is considered one of the most scenic long distance treks in Bhutan. Running along the border with Tibet, the trek offers amazing views of some of the most pristine and unspoiled landscapes in Bhutan. The trek begins at Drukgyel in Paro and takes you through gorgeous alpine meadows and high mountain passes with awe-inspiring views of Mount Jomolhari, Jichu Drake and Tsherimgang. You will trek through remote semi-nomadic village of Laya with unique culture, traditions and appearance. You will also see indigenous animals such as blue sheep and Takins along the trail. From Laya, we descend to Gasa, where you will have a day of relaxation at the hot spring to rejuvenate yourself. (dummy text) You will also see indigenous animals such as blue sheep and Takins along the trail. From Laya, we descend to Gasa, where you will have a day of relaxation at the hot spring to rejuvenate yourself.
Itinerary
Day 1: Paro to Sharna Zampa
17KM | 5-6 HOURS | 230M ASCENT | DESCENT 60M | CAMP ALT 2870M

You will drive 12km north of Paro valley from your hotel to the historic Drugyal Dzong ruins at 2,580m, from were your trek starts. Your trekking crew will be waiting here for you. After a brief meeting, you will walk downhill on a wide trail following the Pachhu (river), which then climbs gently traversing through well-maintained rice terraces and fields of millet. Soon the valley widens and the route enters an area of apple orchards, traditional farmhouses and the tiny settlements of Mitshi Zampa and Sangatan. You reach the army post of Gunitsawa at 2,810 after walking for a while through blue pine forest. Here your trekking permit will be checked and stamped. This is the last stop before Tibet and border close to it. You will then cross Pachu River on a wooden bridge and then climb to Sharna Zampa at 2,870m. Just beyond Shana Zampa, there are several meadows surrounded by trees where you will camp for tonight.
Day 2: Sharna Zampa to Soi Thangkha
22KM | 8-9 HOURS | 690M ASCENT | CAMP ALT 3750M

The trail again follows Pachhu (Paro river), ascending and descending through pine, oak and spruce forests. After 2 hours of continuous hiking and crossing several streams, you will reach at Shingkharap, a stone house at 3110m. A hot lunch will be served after crossing the bridge towards the left side of the river. Little ahead is the trail junction – left an old trade route and invasion from Tibet and right leading to the wooden bridge (we follow the right). After climbing up through rhododendron forests and finally crossing the bridge again, we reach our camp at 3750m, which is amidst beautiful meadows.
Day 3: Soi Thangkha to Jangothang base camp
19KM | 5-6 HOURS | 290M ASCENT | CAMP ALT 4040M

Although today's is not a long trekking day, a significant height gain will take place as your trail goes above tree line. From the camp, your path ascends for a while till you reach the army camp. Then follow the river above the tree line enjoying the stunning view of surrounding peaks. We walk through a very muddy section of trail, pass a mani wall and enter yak country. Hot lunch will be served inside a yak herder's camp. After lunch, we walk past yak herder settlements of Soe and Takethang. Common crops that people grow here are barley, potatoes and turnips. We walk our final approach across a plateau and up a stream bed and Dangochang village to the awesome campsite of Jangothang at an altitude of 4,040m. From here, the views of Mount Jumolhari and Jichu Drake are superb.
Day 4: Jangothang acclaimatization and exploration
Today, you will spend a day by doing four-hour acclimatization hike to the north of your camp. There is practically no trail but you will climb on a open and endless slope till you see the view of Mt Jichu Drakye (6989m). You can scramble further up till 4895m (higher than Mount Blanc) to see amazing view of Mount Jumolhari. You are likely to spot rare blue sheep, Himalayan rhubarb, griffon vultures, golden eagles and the remarkable blue poppy. Jangothang base is a flat grassy land with an old ruined fortress on a hillock in the foreground, beneath the colossal Mount Jumolhari and its neighbour Jitchu Drake. Most people show signs of mountain sickness at this altitude and it is recommended that all trekkers halt here. If you do not wish to hike but simply wish to just relax in camp, whichever option you choose, its certainly going to be a memorable day.
Day 5: Jangothang to Lingshi
18KM | 6-7 HOURS | 660M ASCENT | 660M DESCENT | CAMP ALT 4010M

The trail follows the stream for half an hour and crosses the bridge to the right side. Start the climb up to the first ridge with a breathtaking view of Jumolhari (7314m), Jichu Drake (6989m) and Tshering Gang (6789m). Then walk towards the valley, almost flat for a while, until you climb to the Ngye La pass at an altitude of 4,700m. After the pass, it is a gradual descent to the camp, enjoying the panoramic view of the surrounding peaks and Lingshi Dzong. If time permits, you can have a detour to this tiny fortress, which is sitting on a hilltop overlooking Lingzhi village below. For centuries, Lingzhi Dzong was a way station for weary Buddhist pilgrims and defense fort against Tibetan and Mongol invaders. Camp at an altitude of 4010m.
Day 6: Lingshi to Chebisa
12KM | 5-6 HOURS | 160M DESCENT | CAMP ALT 3850M

Visit the Lingshi Dzong, perched on the hilltop with a commanding view of green hills, the winding river and magnificent peaks. For centuries, Lingzhi Dzong was a way station for weary Buddhist pilgrims and defense fort against Tibetan and Mongol invaders. It is an easy day and pleasant walk through villages and yak herders camp. After lunch, a short walk will take you to Chebisa, a charming little village adorned with a beautiful crystal clear waterfall. Camp by the side of stream at an altitude of 3,850m.
Day 7: Chebisa to Shoumuthang
17KM | 6-7 HOURS | 570M ASCENT | 290M DESCENT | CAMP ALT 4130M

Begin your trek with a stiff climb up a ridge to Gogu La pass (4,500m) taking nearly four hours. The sights of rare blue sheep is common on the rocks near the top of this pass. After the pass, descend through rhododendron bushes to a lunch stop. Afternoon continue along the trail with intermittent ascents and descents and after crossing the stream, through rhododendron forests and yak herders camp we arrive at Shakepasa at 3980m. From there, we walked down through a thick rhododendron forest until our next camp in Shakshepasa at 3980m. Climbing steeply up to the northern side of the valley and passing by a couple of yak herder's camp, we arrive at our camp, which is beside a stream at an altitude 4,250m.
Day 8: Shoumuthang to Rogluthang
17KM | 6-7 HOURS | 570M ASCENT | 290M DESCENT | CAMP ALT 4130M

The trek starts by walking through edelweiss bound trail with a climb to Jari La pass at altitude 4,700m. The snow capped peak visible to the south-east is Kangbum at 6526m. Then descend to Tsarijathang valley, the summer residence of rare Himalayan Takins (national animal of Bhutan). From here we may have to cross the stream as most of the time the footbridge is washed away. After crossing the stream towards the left, the trail ascends till you reach Robluthang, a rocky meadow camp at an altitude of 4,200m.
Day 9: Rogluthang tp Lingmithang
19KM | 7-8 HOURS | 850M ASCENT | 870M DESCENT | CAMP ALT 4140M

Today, you will cross the highest pass in our entire trek. Climb all way up through boggy patches crossing stream, traversing marmot holes and moraine, you will reach at the top of Shingchen La pass (5005m). The view of snow-covered Gangchenta or the Tiger Mountain (6,840m) filling the northern horizon is simply stunning. After the pass, descend through rough rocky trail following moraine river valley to Kango Chhu River. The path is quite narrow and you may have to cross a stream again and get wet. After walking through cedar forests we arrive Lingmethang (4,140m), which is a beautiful scattered meadow by the river with Tiger Mountain towering behind your campsite.
Day 10: Lingmithang to Laya
10KM | 3-4 HOURS | CAMP ALT 3850M

In the morning you wake up with a superb view of Gangchenta peak in front of you. The walk to Laya is very pleasant with wonderful views. You will pass through a damp forest, filled with moss and singing birds. Arrive at Laya village, the second highest settlement in the country, at altitude of 3,800m.
Day 11: Rest day at Laya
Explore around Laya village. You can go and visit any of the houses around. Even to a perfect stranger, traditional Bhutanese hospitality is extended and a cup of tea and Chang (local, wine) is always offered. The people in this valley are very interesting especially the women. They wear conical bamboo hats decorated with turquoise and silver ornaments.

Day 12: Laya to Chamsa
19KM | 6-7 HOURS | 50M DESCENT | CAMP ALT 3800M

Descend to the army camp and join the Mo Chhu (Mother River of Punakha). Follow the river till you cross the bridge. After the bridge it is up and down several times through juniper and fir forests until you reach the camp at Chamsa at an altitude of 3,800m.
Day 13: Chamsa to Gasa Tshachu
19KM | 6-7 HOURS | 300M ASCENT | 1200M DESCENT | CAMP ALT 2900M

Walk for about half an hour over flat land till you reach the Bari La pass. Its downhill all the way to Gasa Tshachu. On the way, you may spot Satyr Tragopan, Himalayan Monal, and Blood Pheasants. Camp at Gasa village at an altitude of 2,700m.
Day 14: Gasa Tshachu Rest day
After a long trek, this is the place to relax. Visit the village and Dzong. The Dzong was built in 17th century by the first religious King, Zhabdrung Ngawang Namgyal to protect the valley against Tibetan invaders. After visiting the Dzong, descend to Gasa Tshachu (hot spring) to enjoy the hot bath in one of the pools. The Gasa Tsachu is one of the most popular hot springs in Bhutan.
Day 15: Gasa Tshachu via Damji and Tashithang to Punakha
After breakfast, you will drive un-tarmac road descending through heavily forested areas rich with wild orchids to arrive at Damji Village (2,400m). Continue downhill through the high agricultural benches and lush semi-tropical gorge filled with banana trees and creepers. Follow the Mo Chhu river through thick forest till you reach Tashithang at an altitude of 1,620m and further down for 15km to Punakha.