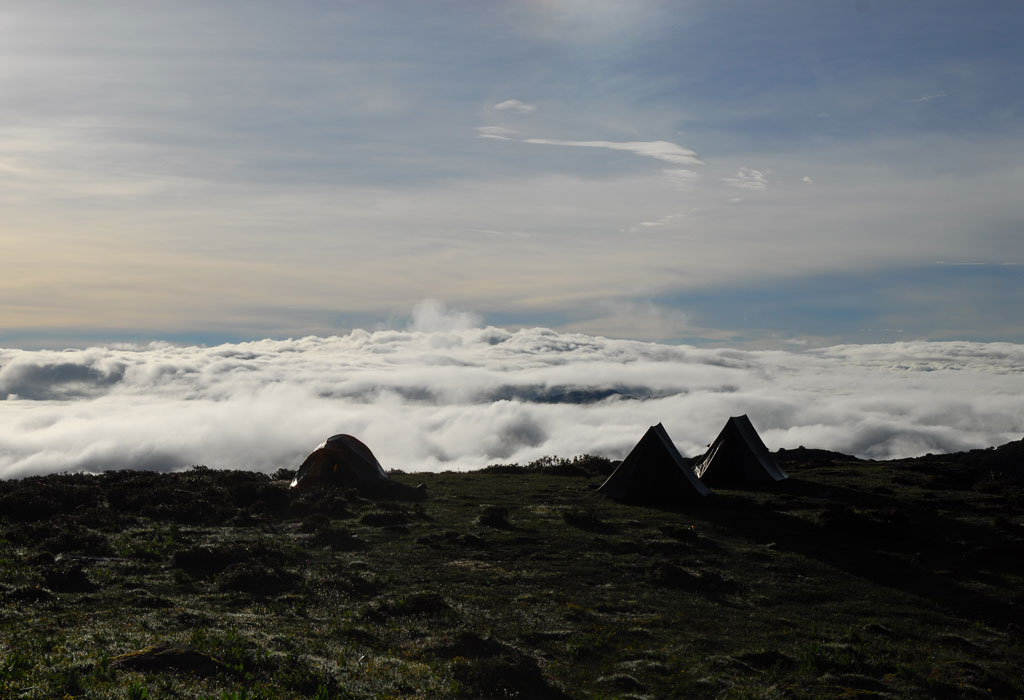 Trip Highlights
Duration 4 Nights | 5 Days
Best Season March – June & September – November
Difficulty Level Easy - Moderate
Highest Altitude 4235m
Avg Walking Distance 11 km
Avg Walking Time 5 hrs
Trek Overview
Druk Path Trek is one of the finest short treks in Bhutan. Leading through an ancient trading route, over high mountain passes, it connects the valleys of Paro and Thimpu. Trail passes through spectacular rhododendron forests, alpine yak pastures and beautiful lakes stocked with snowy mountain trouts.
The trek begins by walking up through apple orchards and pine forest past ruined Jele Dzong (fortress), which sits on a high grassy ridge with breath-taking views of Mount Jumolhari to the north. In the next 4 days, we climb above the tree line and cross several passes, including the Phume La (4210m.). En route, we come across clear mountain lakes, number of yak herder's camps and have splendid views of Himalaya along the Bhutan – Tibet border including Mount Jumolhari, Jitchu Drake and Gangkar Punsum. Our final descent through pine and juniper forests via Phadjoding monasteries would lead into Thimphu, the capital city of Bhutan.
Itinerary
Day 1: Paro to Jele Dzong Past Damchena Village
10KM | 4-5 HOURS | 1003M ASCENT | 10M DESCENT | CAMP ALT 3480M

Although today's trekking day is short, we keep slow and steady pace as altitude gain is significant. After breakfast, you will drive to the road head at the National Museum (2487m) above Paro from where you will start your trek. We will walk from the Museum heading up hill through apple orchards, smallholdings of Damchena village and pine forests. Visit Jele Dzong (3,490m), perched on a whaleback ridge. Jele Dzong is mostly in ruins and there is a Lhakhang with the statute of Buddha Sakyamuni. On a lear day, the views of Paro town far below and of mount Jomolhari (7,314m) are breathtaking. Overnight camp at 3480m.
Day 2: Jele Dzong to Jangchulakha
10KM | 4 HOURS | 300M ASCENT CAMP ALT 3780M

Begin with gradually ascent and then descend below the ridgeline to walk through the trail of thick alpine forests and rhododendrons. You may see yak herders in the area. There are fascinating views of Jhomolhari and other snow capped mountains and you can also hear some monal peasants during the day. We continue our up hill walk to reach a yak herders' pasture at Jangchulakha (3,780m) with outstanding views of the Himalayan range. We camp in a yak pasture near the hillside
Day 3: Jangchulakha to Jimilangtsho lake
11KM | 4-5 HOURS | 400M ASCENT | 300M DESCENT | CAMP ALT 3880M

The trail follows the ridge and at times through juniper trees and dwarf rhododendrons. The views of the mountain valleys of Thimphu and Paro are sensational. After making an ascent and then a steep descent, we arrive at Jimilangtsho Lake (3,880m). The lake is famous for their giant sized trouts. Near the camp, you can have great views of 6,989m Jichu Drake, the peak representing the protective deity of Paro. Overnight camp close to Jimilangtsho Lake.
Day 4: Jimilangtsho via Janetsho lake to Simkota
11KM | 4 HOURS | 270ASCENT | CAMP ALT 4110M

The trail takes you through dwarf rhododendron trees and bypasses the lake of Janetsho. You may come across some yak herder's camp and get an idea how these people live. Trail winds and undulates with magnificent view of the Himalaya across deep valleys. Simkotatsho Lake (4,110m) can be seen below after crossing one final spur. We continue our trek until we reach the yak pasture where we camp for tonight.
Day 5: Simkota via phajodhing (3,870m) to Thimphu city
14KM | 7 HOURS | 100M ASCENT | 1800M DESCENT

Today you will begin with a gradual climb to a small saddle at 4,150m from where you enjoy majestic view of Mount Gangkar Puensum and other himalayan peaks on clear weather. You will then descend to another small lake and then climb to the Phume La pass (4,210m) which is adorned with beautiful prayer flags. From here, you will enjoy great view of Thimphu city far below. The trail slowly descends through junipers trees to a community hall near Phajodhing (3,870m). Walk way down hill to Thimphu through a forests of blue pine and juniper until you arrive the roadhead of Sangaygang on the outskirts of Thimphu valley.